Completed Projects
Remedial timber lined tunnel constructed on behalf of Marconi Cable Services / BT PLC.
| | |
| --- | --- |
| Contract Duration | 12 months |
| Contract Location | Ilford, London |
| Local Authority | London Borough of Redbridge |
Contract Brief
To construct a non-standard remedial timber lined tunnel over a distance of 156 meters with 4 associated working shafts at an average working depth of 3.0 meters. One working shaft to be adjusted to suit and a non-standard manhole constructed. A new multiway duct nest laid within the remedial tunnel and hand packed with approximately 225 cubic metres of concrete.
Contract Detail
This project was executed in the highly congested location of Ilford High Street where the impact on local trades, vehicle and pedestrian traffic was a major consideration when planning the works.

All excavated materials were moved on a daily basis to a remote site out of hours to again minimize disruption.

The timber lined heading was adjusted in height and position in relation to the existing tunnel to accommodate mains at a deep level, and to allow for works both above and alongside the existing. A BT MRX manhole was built at the location of the position change.
Demolition and Reconstruction of existing multi-level manhole on behalf of Marconi Cable Service / BT PLC.
| | |
| --- | --- |
| Contract Duration | 7 months |
| Contract Location | Covent Garden, London |
| Local Authority | Westminster |
Contract Brief
To demolish two very large existing concrete manholes which were in a poor structural condition and re-build with new reinforced concrete manholes to a non-standard design.
Contract Detail
These works were carried out in the piazza area of Covent Garden and involved detailed consultation with the Local Authority, Police, Fire Services and the local traders in the Covent Garden area.
The manholes were designed and built by Eirscot Ltd in association with consultant engineers Malachy Walsh and Partners, wh have over twenty years experience working with BT on the civil engineering design of these bespoke structures.
The special engineering considerations during the temporary works and construction phases of the project included
Building over an old brick London sewer junction; the original manhole was found to be built on top of a sewer intersection.  The new structure was built on concrete pads and legs spanning the old brick sewers.  Timber headings were driven over the sewer to enable the new reinforced concrete support system to be formed.

Controlling running sand conditions; running sand was controlled by 24 hour pumping from independent pumps, the use of interlocking sheet piles and a filtration system.



Working adjacent to a listed building under renovation.  Great care had to be taken to ensure that all demolition works were carried out in conjunction with the works on the listed building.  Vibration monitoring was carried out throughout the works, with controlled demolition techniques.

A heavy duty steel road decking was installed over the entire working site before the Christmas Holiday break, to facilitate emergency services accesss and high volumes of pedestrian traffic, and removed immediately afterwards.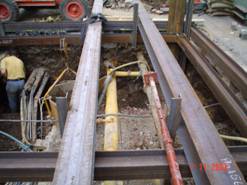 This consisted of installing a deck of 15 No Steel beams of 12 meters in length and having a 300 x 300 mm section.  Welded to the beams were 25mm boiler plates and reinstated over with 100mm HRA as a wearing course.